Metabolic Disease: Prevention and Quality Care in the Primary Healthcare
Interactive Online Event
Start Date: November 18, 2022
End Date: November 18, 2022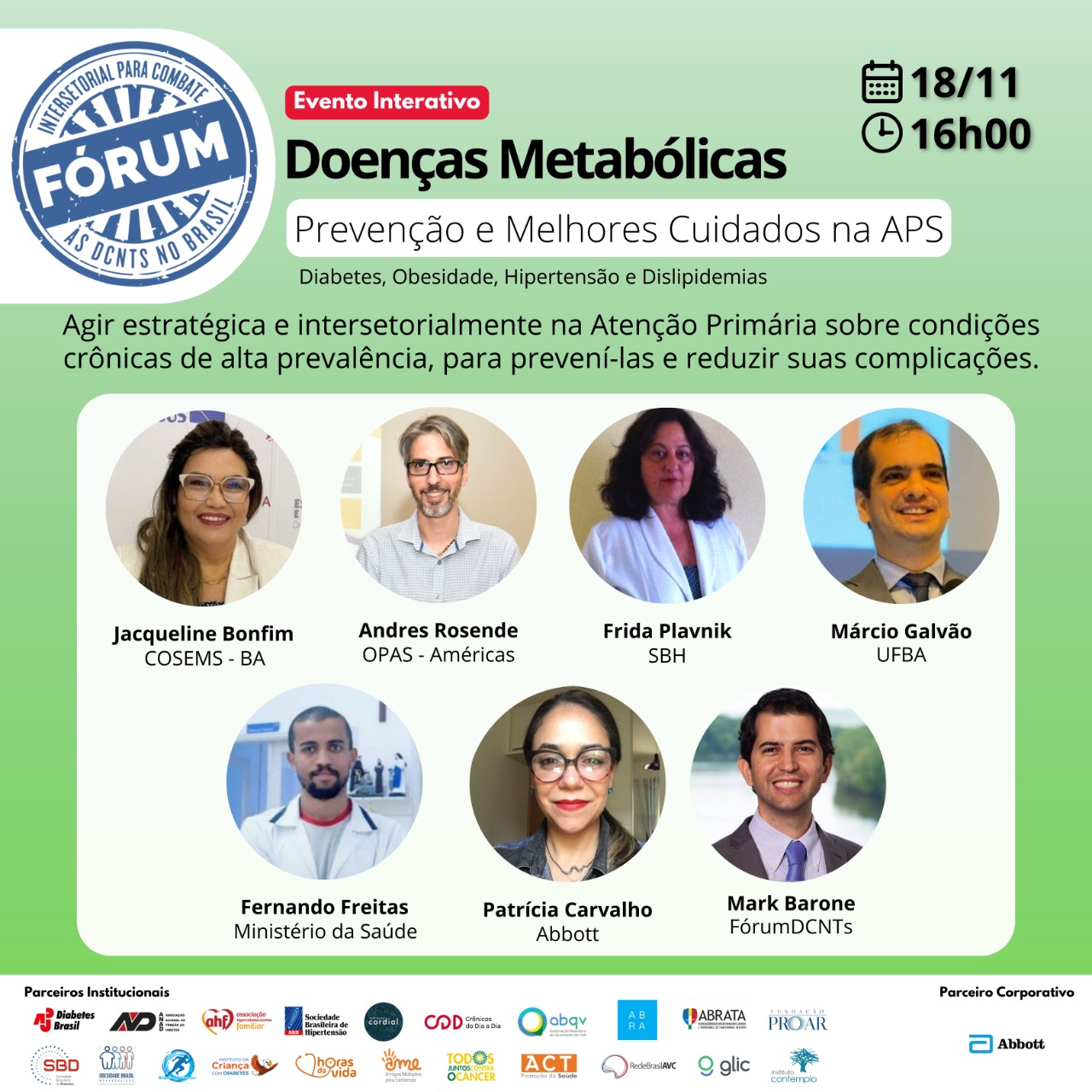 Goals:
- Understand the association between different chronic conditions of high prevalence, leading to complex metabolic alterations, and strategies to prevent, diagnose and control them.
- Learn from effective programs to prevent, monitor and reduce complications and premature deaths associated with these chronic metabolic conditions.
- Engage the public, private and not-for-profit sectors for cross-sector efforts and scale models that are proven to reduce costs and save lives.
Schedule:
16:00-16:20 – Opening and Contextualization
Mark Barone, FórumDCNTs | IDF
Frida Plavnik, SBH
Patricia Carvalho, Abbott
16:25-16:30 – Summary of results of the HEARTS-Americas strategy for Hypertension, Diabetes, Obesity and Dyslipidemia (Andres Rosende, PAHO-Americas)
16:35-16:40 – How has Previne Brasil helped the country to advance in NCD care? What are the next steps? (Fernando Freitas, Ministry of Health)
16:45-16:50 – Which health markers cannot be missing in PHC for the prevention and effective management of metabolic diseases?
16:55-17:00 – How does the association between professional training, health education and metabolic markers in PHC improve outcome? (Marcio Galvão, UFBA)
17:05-17:10 – Report of the Municipality adhering to Previne Brasil – How to join? What did you achieve? (Jacqueline Bonfim, COSEMS-BA)
17:15-17:45 – Debate – Intersectorial Cardio-Metabo-Renal with a focus on PHC: how to improve quality of life, reducing complications and premature deaths due to metabolic alterations? (Moderation: Mark Barone, ForumDCNTs)
Andres Rosende, PAHO-Americas
Fernando Freitas, Ministry of Health
Frida Plavnik, SBH
Jacqueline Bonfim, COSEMS-BA
Marcio Galvão, UFBA
Patricia Carvalho, Abbott
Free registrations on: https://www.forumdcnts.org/post/doencas-metabolicas-aps-2022
Organizer: Intersectoral Forum to Fight NCDs in Brazil (ForumDCNTs)
Event Email: ForumDCNTs@gmail.com
Event website: https://www.forumdcnts.org/post/doencas-metabolicas-aps-2022
Share: