Introduction to mindfulness for diabetes - World Diabetes Day special (virtual)
Meeting/Exhibition/Fair
Start Date: November 14, 2022
End Date: November 14, 2022

Location:

Leominster

,

England

,

United Kingdom
Introduction to mindfulness for people living with diabetes
Living with diabetes is no plain sailing. At times, the waves of daily management can become overwhelming. Diabetes distress is a growing challenge. Therefore, we'd like to raise awareness for this condition, and share helpful thoughts on how mindfulness for diabetes can help us manage our thinking. Our team is pleased to be able to offer this opportunity to the diabetes community on World Diabetes Day. This is an opportunity to come together and explore how mindfulness can support us in working with stress and the challenges of living with diabetes. The 45-minute session will include a short guided mindfulness meditation practice followed by an opportunity for some group reflection and questions and answers.
Everyone is welcome to come along, whether new to mindfulness or whether you have already been connected with a mindfulness practice.
We hope you will join us and look forward to sharing time and practice with you.
Meet your hosts:
Vici Williams - Mindfulness Teacher :
Vici has been offering mindfulness within the NHS since 2007, initially within a Dialectical Behaviour Therapy-based service within Cornwall Foundation NHS Trust. Since completing postgraduate mindfulness training at the University of Exeter in 2010, Vici has taught MBSR and MBCT courses within the NHS and privately in Cornwall.These courses have included MBSR for the general public, NHS Therapists and MBCT for Primary Care patients, the Eating Disorder Service and clients of the Integrated Community Mental Health Team (ICMHT).
Before teaching mindfulness, Vici was involved in research prior to training for counselling. Subsequently, she worked in the voluntary and statutory sectors for 16 years, developing a mental health helpline for Cornwall before researching NHS services.
Emma Thom - Mindfulness Teacher:
Emma has worked in mental health for over 20 years. She has a Post Graduate Diploma in Mindfulness-Based Cognitive Therapy (University of Exeter). She works at the AccEPT clinic in Exeter teaching mindfulness courses to adults with Depression, anxiety, and long-term health conditions and also with health and social care staff.
Emma was diagnosed with type 1 diabetes at the age of 14 and at the time there was little, if not zero input on how to manage the rollercoaster of emotions that can accompany living with a long-term health condition! Learning mindfulness as an adult has benefitted Emma in so many ways, including managing the challenges, frustrations, and achievements of living with type 1 diabetes.
Emma loves sharing what she has learned with others and is particularly interested in how mindfulness supports people to manage stress and ill-health and in the countless ways that mindfulness helps wellbeing, happiness, and flourishing!
What's Neap?
Neap is a mindful diabetes management app. Diabetes is with you every day, so there should be further support with managing the ups and downs. So, we created Neap, a diabetes management app to calm the waves of diabetes, and make life with diabetes easier. Built by people living with diabetes, and mindfulness specialists, Neap can help you enhance your daily diabetes routine and put you at the helm.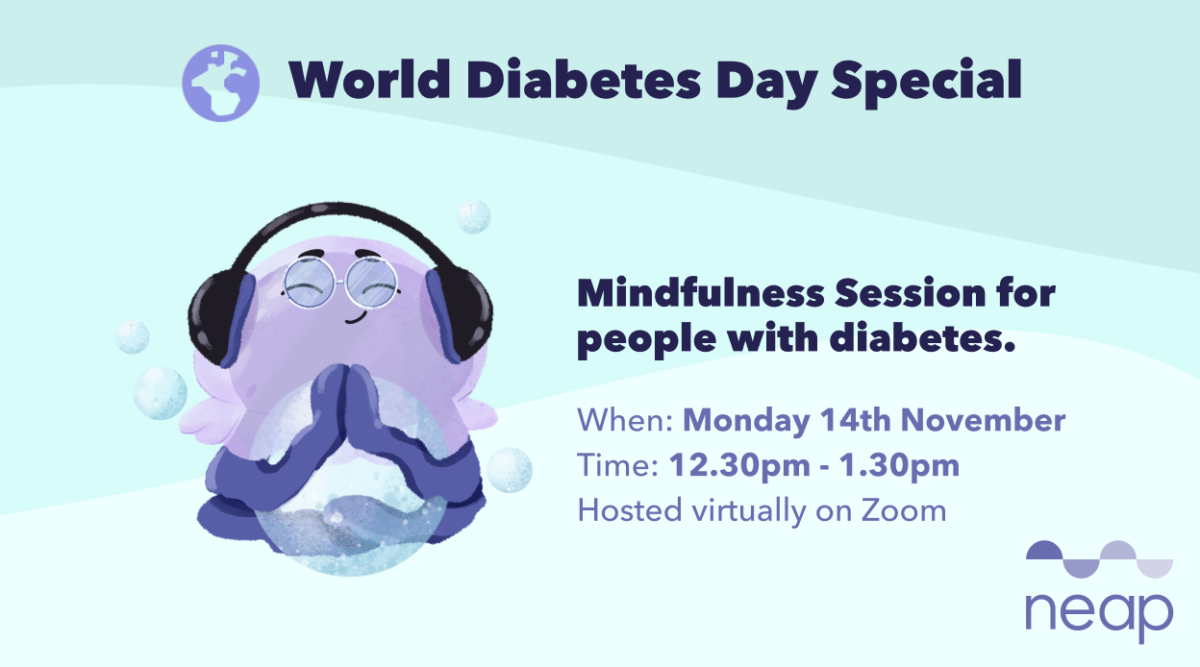 Organizer: Neap - the mindful diabetes management app
Event Email: Hello@neap.io
Event website: https://www.eventbrite.co.uk/e/world-diabetes-day-mindfulness-event-tickets-445287074627
Share: