BNZ FOUNDATION WORLD DIABETES DAY COMMEMORATION
Screening for type 2 diabetes
Start Date: November 12, 2022
End Date: November 12, 2022
Location:

Nkandla

,

KwaZulu-Natal

,

3855

,

South Africa
The Bongi Ngema-Zuma Foundation joined hands with kwaNxamalala Traditional Council and KZN Health Department, to host its 13th World Diabetes Day commemoration, in deep rural location of Nkandla in KZN Province, South Africa, on Saturday 12 November.
Five hundred and eighty six (586) people screened for Blood glucose (diabetes), blood pressure. Other services offered included HBa1c - advanced blood glucose diagnosis, Eye screening where over fifty participants walked away with reading glasses. HIV & Aids counseling and testing, Cervical cancer screening (pap smear), Tuberculosis (TB), MMC, Covid testing and vaccination.
The day started with fun walk to promote physical activity, followed by outdoor aerobics.
INkosi (Chief) Nxamalala. INkosi Magwaza, Ward Councilor - Philani Nkwanyana, PR Cllr Bhengu, Dr Dhlomo Deputy Minister of Health, Rev Sibanda - UCCSA, Rev Rose Botwana - Zoe Bible Church Pimville, CEO of Nkandla Hospital - Mthembu were in attendance.
We thank our sponsors, partners and community at large for joining hands in making this day a success that it was. Together we can save more lives. #WorldDiabesDay2022 #EducationToProtectTomorrow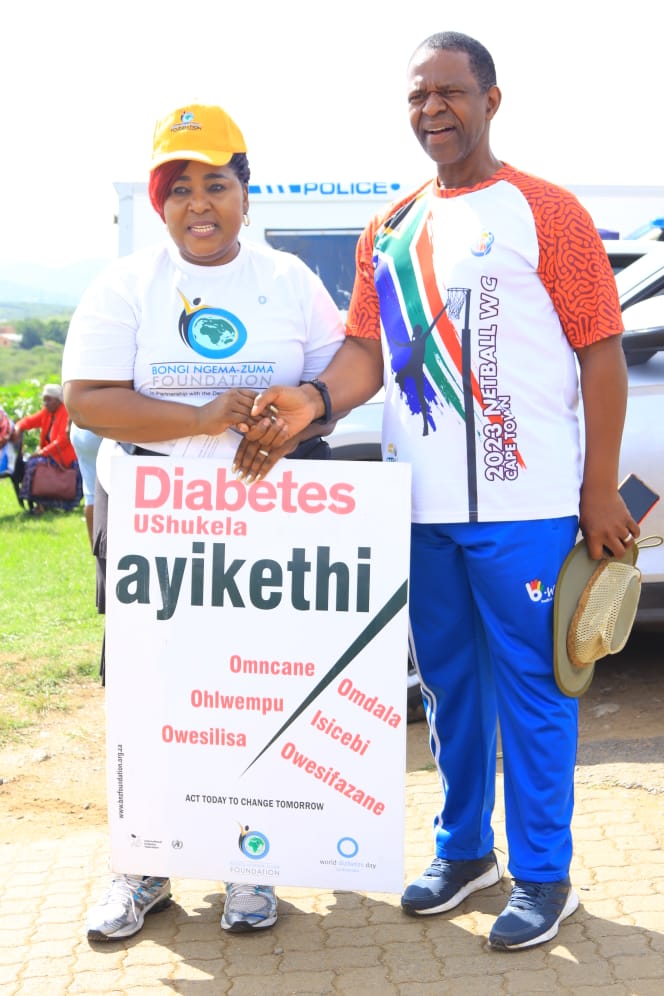 Organizer: Bongi Ngema-Zuma Foundation
Event Email: bongi.ngema1@gmail.com
Event website: www.bnzfoundation.org.za
Share: